Pre-order donuts
Do you have an upcoming wedding, birthday party, or business meeting? Look no further, we have got you covered! We offer Event Ordering of 4 dozen or more so you can wow your family, friends, and coworkers with dozens of fresh Maine Potato Donuts! If you would like more information regarding our timeline and pricing etc., please fill out the form below and our event coordinator will be in touch within two business days to assist you. Check out the FAQ section at the bottom of the web page.
Submitting an order request does not mean that it is confirmed, our event coordinator will reach out to let you know if we can accomidate. All event orders must be confirmed no later than one week prior to pickup.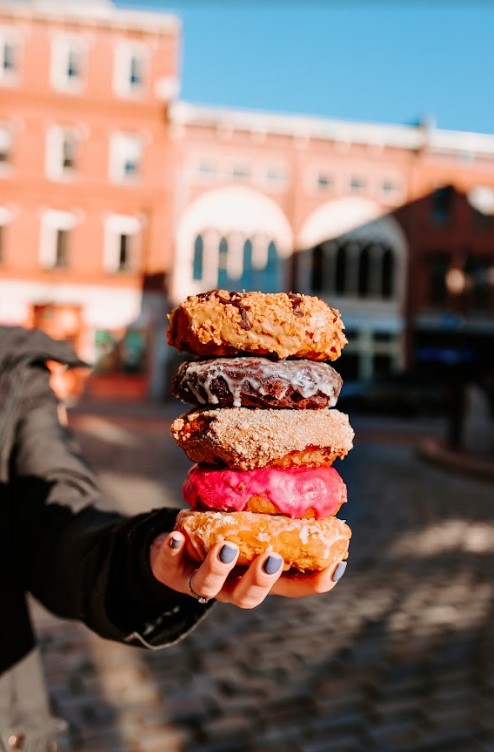 Small orders
We are happy to accommodate SMALL ORDERS of 3 dozen or less at the shop level. Go in early to get our best selection!
Frequently asked questions
How far in advance do large orders need to be placed?
Orders can be submitted at any point in the year. Because we have daily production maximums, all orders are first come first served until this limit is reached, submitting a request does not secure your order.
All event orders must be confirmed one week prior to pickup.
What flavors can pick for large orders?
All flavors can be chosen in increments of six (1/2 dozen). You can choose up to two flavors for every twelve (one dozen) donuts. Example:
24- Chocolate Sea Salt
18- Fresh Lemon
12- Maple
6- Cinnamon Sugar
Do you ship or deliver?
We do not ship donuts or deliver.
Are large orders available for holidays?
We give our team members holidays off so they can be enjoyed with family & friends. We do not accept event orders for the following days:
Thanksgiving Day & the day after

Christmas Day & the day after

New Years Day

Easter Sunday

July 4th

Labor Day

Memorial Day
What is your cancellation policy?
We require one week notice to cancel any event order for a refund.
How do I know that my order is confirmed?
Orders are not confirmed until payment has been processed via an online digital invoice that will be sent to your email. We strongly suggest settling all details as soon as possible as we have daily production maximums and all orders are first come first serve until this limit is reached.
Get a quote
The form below is to INQUIRE about an order of 4 DOZEN OR MORE DONUTS. It is not confirmed until we contact you and confirm that we can do it and payment has been processed! Thank you!